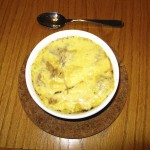 This is how I make French Onion Soup.
Ingredients:
1 Tblsp Butter
1 Dash Seasalt
1 Large Videlia Onion or Sweet Onion, thinly sliced
2-1/4 Tsp Watkins Beef Soup and Gravy Base
2-1/4 Tsp Watkins Chicken Soup and Gravy Base
3 Cups Water
1/4 Cup Red Wine
1 Tsp Worchestershire Sauce
1 Tsp Parsley
1/2 Tsp Thyme
Salt and Freshly Ground Pepper to Taste
Croutons
Cheese (Gouda or Swiss)
Directions:
Melt butter in a medium pot over medium heat. Stir in salt and onions. Sautee onions over medium heat for about 30 minutes until caramelized. Stir frequently. Onions should be clear and almost syrupy.
Add 3 cups of boiling water (heat using kettle) to pot. Stir in the beef and chicken soup bases. Add the red wine, Worchestershire sauce, parsley and thyme. Bring to a boil and simmer over low heat for 30 minutes. Season with salt and pepper. Cover and keep hot over low heat until ready to pour into bowls.
Preheat the oven broiler. Arrange croutons in two oven safe soup bowls. Fill each bowl 3/4 full with hot soup. Top each bowl with medium thick slices of cheese.
Broil for 3 minutes or until bubbly and golden brown. Serve immediately.