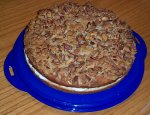 Cake
300g Flour
1-1/2 Tsp Instant Dry Yeast
40g Sugar
1 Pkg Vanillin Sugar
Salt
40g molten warm Margarine
150-175ml warm Milk
Topping
75g Butter
100g Sugar
1 Pkg Vanillin Sugar
100g sliced Almonds
1 Tblsp Milk
Filling
1/2 Pkg cooked Pudding
150g Butter
75g Icing Sugar
Preparation
Place flour, dry yeast, sugar, vanillin sugar and a dash of salt in a bowl. Mix these ingredients well. Make an indentation in the flour mixture and add the milk and margarine. Work all ingredients into a smooth dough. Let dough rise for about 30 minutes or until dough doubled in size.

For the almond topping place butter, sugar and vanillin sugar in a sauce pan. Over medium heat melt the butter and bring the mixture to a boil. Remove from heat and mix in the almonds.

Once the dough has risen knock it down and knead it again. Roll out dough and place in a greased 28cm spring form. Spread topping on the dough and let rise a second time for about 30 minutes or until the dough doubled in size.

Bake in preheated oven at 400°F for 25 Minutes.

Prepare 1/2 pkg of cooked pudding per package instructions. It should require approx. 300ml of milk. Stir the pudding frequently while it cools to prevent a skin from forming. Make sure the pudding is cooled well before preparing the butter cream.

Beat butter and sugar well. Slowly, a spoonful at a time, add the cooled pudding to the butter cream.

Slice the cooled cake into two layers. Spread the butter cream on the bottom layer. Place the top layer on the butter cream.

Keep the cake cool. Serve and enjoy.